Full Day Santiago Walking Tour // Tour Caminando Santiago Día Completo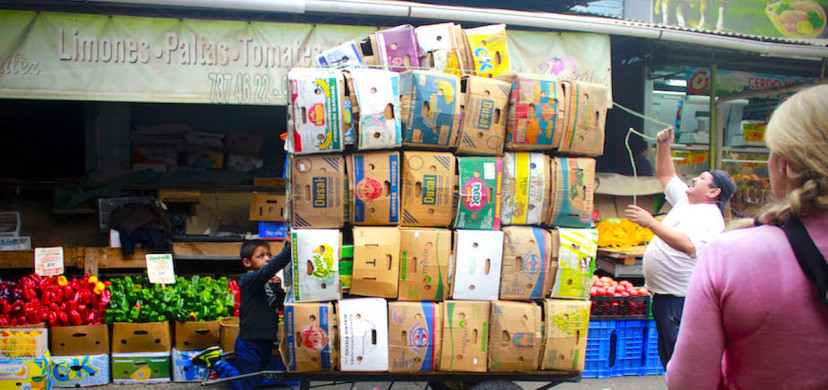 Duration: 8 Hours (approx.)
Location: Santiago
Product code: T4TS051FD
An offbeat walk at 10AM where the only thing that will be to the beat is the sound of our feet. Together we discover Santiago's fresh fruit, veg, fish (and everything inbetween) market. Our feet bounce off the tourist path and we will interact with true Chilenos as they hustle over the capital city, tasting, smelling, bartering and bantering. Are you a wanderer with an inkling for excitement and enthusiasm for culture? This tour will fill your inner desires. This tour's grand finale is a visit to El Cementerio General (Santiago General Cemetery)… We told you this is not your average tour! But we'd be loco not to share this wonder with you. A tour where you should expect the unexpected and discover what it is like to be a Santiago local. Charge your camera and slap on some sunscreen friends! A personal tour for life's cultureseekers!
You have then a lunch break before the highligts tour!

At 3pm starts our second tour. We visit and chat about the architecture, side streets, and both the political and cultural destinations. We explain all the blank spaces you may have left of Santiago. You will learn why there are so many street dogs, what it means to be Chilean and why coffee is only enjoyable when served by a half naked lady! All this along with a graffiti trip, discovering Plaza De Armas and visiting the famous La Moneda presidential Palace + more! This tour will help you understand our unconditional love for this city.

Ven a vivir este paseo por un Santiago desconocido donde el ritmo lo definirá el ruido de tus pies al caminar. Descubriremos mercados llenos de frutas, verduras, pescados y todo lo imaginable! Saldrás de las rutas turísticas tradicionales para conocer a los auténticos chilenos y verás cómo despiertan junto a ti al bullicio, los sabores, los olores y el ritmo de la ciudad. ¿Te emocionas y entusiasmas con la cultura? Este tour va a satisfacer tus deseos más profundos y viene con un gran final: el Cementerio General, el principal cementerio de Santiago… Nos sentimos con la obligación de compartir esta maravilla contigo! Recuerda que éste no es un típico tour. Prepárate, espera lo inesperado y descubre cómo es ser un verdadero santiaguino. Lleva tu cámara lista y hazte amigo del protector solar!
Después tienes un tiempo para tu almuerzo antes del tour de la tarde!
Acompáñanos a las 15h en esta aventura de 3 horas visitando y conversando de la arquitectura y las pequeñas callejuelas de Santiago, sin dejar de lado la historia política y cultural de la capital de Chile. Contestaremos todas tus preguntas: por qué hay tantos perros callejeros? ¿qué significa ser chileno? o ¿por qué disfrutan el café servido por una mujer semi desnuda?! Te llevaremos dónde están los mejores graffitis, descubrirás la Plaza de Armas y visitarás el famoso Palacio Presidencial de La Moneda. Y hay más! En este tour entenderás por qué amamos Santiago incondicionalmente. A las 3pm y todos los días del año tu guía bilingüe - Wally- te estará esperando vestido con su polera a rayas blancas y rojas al frente de la entrada principal del Museo de Bellas Artes y estará ansioso por conocerte!