Full Day Valparaíso Walking Tour // Tour Caminando Valparaíso Día Completo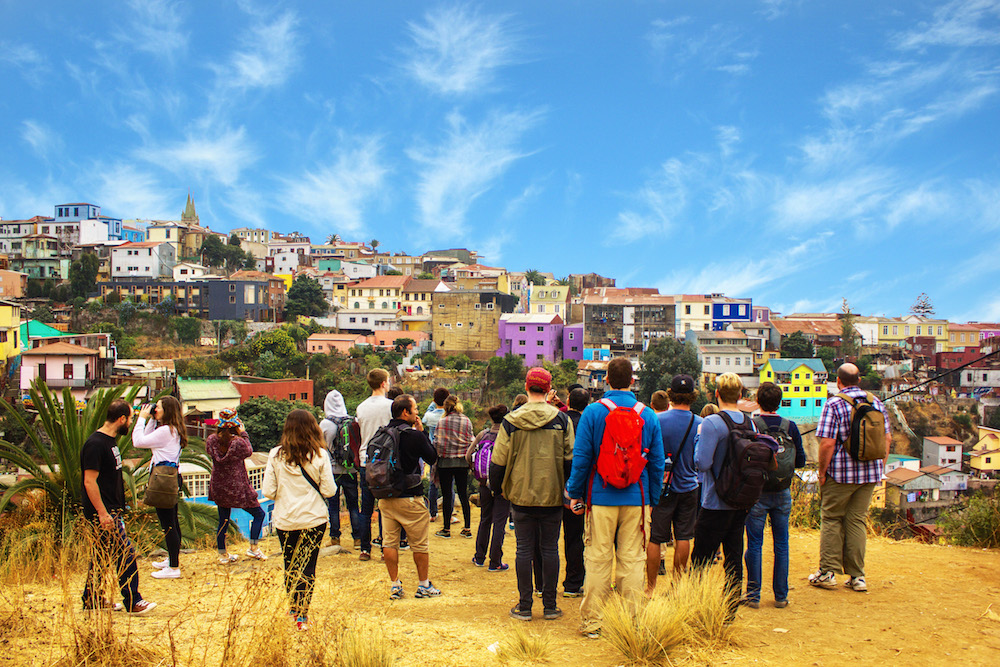 Duration: 8 Hours (approx.)
Location: Valparaiso
Product code: T4TV061FD
If you think Valparaiso is an extraordinary city then you ain't seen nothing yet. This tour starts at 10AM and is about places and people that only locals can show you. Ask your Wally guide what the local bread is, where the Wanders favorite dive bar is, and what a Chileans dinner consists of. Only a local can answer such things: introducing your Wally! You will learn about president Salvador Allende, the competition for the oldest bar in the port (cheers to that) and Chile's native Mapuche indigenous people. Discover all of this while strolling through the Graffiti filled walls of Valparaiso. Together we will delve into the politics, food, graffiti, social reality and of course the brothels of the port city. This tour of world heritage sight Valparaiso, is designed to show you the city's "other side". This side is home to artist studios, jail houses, cementeries and it´s street art galore!
Enjoy your free time for lunch before the Highlights tour at 3PM
This 3 hour walking tour from port to high hills will help you find your feet and lose your mind as you discover the Heritage Site of Valparaiso. In Valparaiso it is easy to get lost in the maze of alleyways and street art. We lead you around not only enhancing your sense of direction but filling you with our knowledge and wisdom of locally named "Valpo". An adventure that takes you through your senses of taste, smell, vision and laughter (ok that last one might not be a sense, but if it was it's going to be tickled). Today you will ride a 100 year old funicular, learn about Chileans favorite food and find out which Valpo street dog is called David Bowie.
The best part? This is a pay-what-you-feel tour. The pressure is off and the culture discovery is ON…
Si piensas que Valparaíso es una ciudad extraordinaria…. todavía no has visto nada! Este tour empieza a las 10:00 y es sobre lugares y personas que sólo quienes viven en la ciudad pueden mostrarte. Pregúntale a tu guía Wally cómo se llama el pan más consumido en la ciudad, dónde disfrutan su tiempo libre los fanáticos de Wanders (el equipo de fútbol porteño) o qué ascensor está cerrado hoy. Sólo un local puede responder ese tipo de cosas y ese es… tu guía Wally! Junto a él aprenderás sobre el presidente Salvador Allende, la eterna competencia por definir cuál es el bar más antiguo del Puerto (salud por eso!) y conocerás a los Mapuche, los indígenas nativos de Chile. Descubre todo esto mientras caminas por un Valparaíso lleno de muros pintados de graffitis. Juntos vamos a profundizar en política, comida, arte callejero, realidad social y por supuesto, los burdeles de esta ciudad portuaria. El tour está diseñado para mostrarte el "otro lado" de la ciudad Patrimonio Mundial de la Humanidad de Chile, donde los artistas conviven con cementerios, graffitis y las celdas de una antigua cárcel!
Disfruta de tu tiempo para el almuerzo antes del segundo tour a la tarde a las 15h!
Este tour te llevará desde la zona portuaria hasta los elevados cerros en una caminata de 3 horas de duración donde, a medida que descubres la ciudad Patrimonio de la Humanidad de Valparaíso, te volverás a reconectar con tus pies y dejarás que la poesía llene tu alma. En Valpo, como llaman localmente a la ciudad, es fácil perderse en su laberinto de calles o enredarse con los muros llenos de arte callejero, por eso te guiaremos mientras mejoras tu sentido de la orientación y tu conocimiento de la ciudad. Esta es una aventura por los sentidos del gusto, el olfato, la visión y la risa (ok, esto último puede que no sea un sentido pero te aseguramos que sentirás cosquillas). Vas a subirte en un funicular con 100 años de antigüedad, aprenderás sobre la comida favorita de los chilenos y descubrirás qué perro callejero se llama David Bowie.
¿La mejor parte? Este es un tour de paga-lo-que-sientas así que ponle OFF a las excusas y ponte ON para el descubrimiento cultural.