Full Day San Pedro Today Walking Tour // San Pedro Tour Caminando Día Completo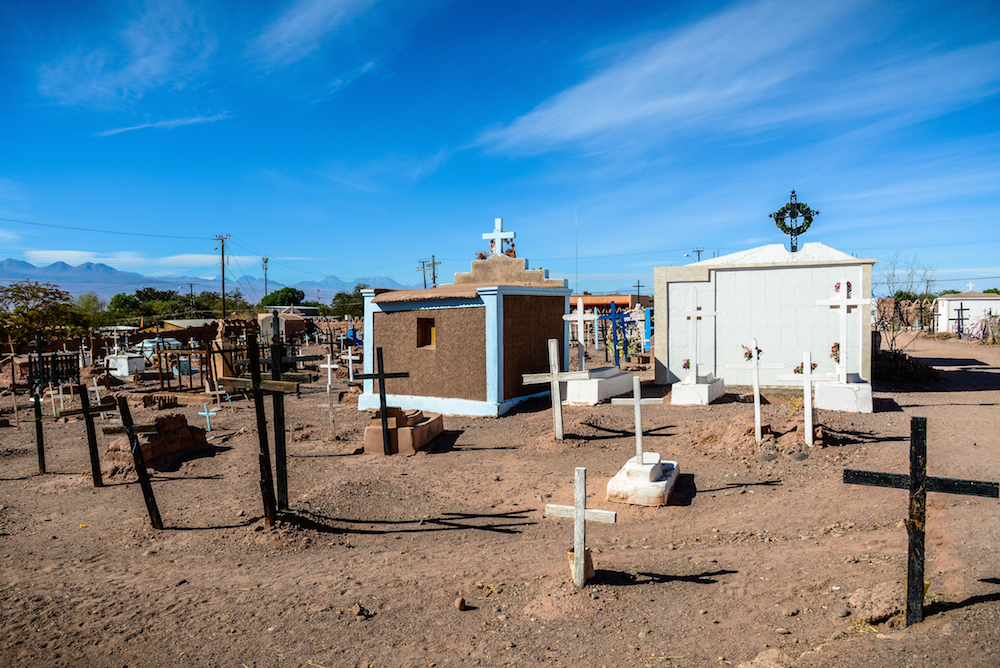 Duration: 8 Hours (approx.)
Location: San Pedro de Atacama
Product code: T4TSP091FD
Are you looking to get the most out of San Pedro in just a few days? If you think football, conspiracy theories and mummies sound like an intriguing combination for a city tour, we think you will remember this 2 hour walking experience. This tour's grand finale is a deep dive into the San Pedro cemetery… A tour where you should expect to learn why San Pedro is the epitome of magical realism, why our lovely village has fewer pharmacies per capita than any other in Chile, and how tourists can be less touristy.
You have then a lunch break before the afternoon tour starting at 3PM

Travel back in time with us on this San Pedro 2 hour in-depth cultural adventure around the city outskirts. We will peel back the layers of foreign influences and conquistador invasions that came through our Atacameño lands over the last 11,000 years. We start by going back before this was Chile's land, 150 years ago, before it was Bolivians, Spanish, Incas and Tiwanaku territory. We explain all the culture behind the archaeological sites and landscapes you visit on your outdoor excursions. Are you a curious nomad with an unusual amount of enthusiasm for culture? This tour will fill your inner desires. This tour's grand finale is a visit to an Ayllu (traditional form of community) inside an oasis… A tour where you should expect to learn and discover what it is like to be an Atacamaño local. Charge your camera and slap on some sunscreen friends! A personal tour for Chile's northern life's culture seekers!

¿Estas buscando aprovechar al máximo tus pocos días en San Pedro? Si fútbol, teorías de conspiración, y momias te suenan como una combinación intrigante para un tour, creemos que esta experiencia de dos horas será memorable. El punto cúspide de este tour tiene su gran final en el cementerio de San Pedro. Aprenderás por qué este pueblo es la personificación del realismo mágico, por qué tiene la taza mas baja de farmacias per cápita en todo Chile y como los turistas pueden llegar a ser menos turísticos.
Después tienes un tiempo para tu almuerzo antes del tour de la tarde que empiece a las 15h!

Viaja a través del tiempo y sumérgete en esta aventura cultural de dos horas por los alrededores de San Pedro . Una a una iremos explicando cada una de la diferentes influencias extranjeras y cada una de las invasiones que ha sufrido el territorio atacameño en los últimos 11.000 años. Empezaremos desde antes que fuera territorio chileno, incluso antes de que fuera territorio boliviano o colonia española o territorio inca o tiwanaku. Te explicaremos toda la cultura detrás de los sitios arqueológicos y de los paisajes que visitarás en tus excursiones. ¿Eres un nómada curioso con un excesivo entusiasmo por la cultura? Este tour cumplirá tus más profundos deseos. El punto cúspide de este tour es la visita a la comunidad tradicional Ayllu, que se encuentra en medio de un oasis.... una visita de la que debes esperar descubrir lo que realmente significa ser atacameño. ¡Carga tu cámera y báñate en bloqueador solar! Un tour personal, para todos aquellos que desean saber especialmente de la cultura norteña chilena.